Ringing in the New Year with the Mouse
Tips for Ushering in 2023 at Walt Disney World
Because we have family in the Orlando area and made it a point to visit Walt Disney World as often as possible over the last 22 years, we have spent many New Years' Eve's at Disney World. The Christmas season is a special time to visit! New Year's Eve is one of the most crowded days in Walt Disney World Parks. Today we are going to talk about tips for maximizing your visit.
The Who, What, and How
If you're planning on taking photos or videos of a fireworks or light show, make sure your phone or camera is fully charged up before heading out. There will be lots of people trying to take pictures at once, so it's best to be prepared.
Additionally, remember that things can get quite crowded during New Years' Eve, so be sure to stay with your group and keep an eye on the children in your party.
Fireworks from the Parks
Hopefully you are aware of the new norm – you need park tickets and reservations to get into the parks. As of the writing of this blog, Magic Kingdom is doing Fantasy in the Sky Fireworks at 6:30pm and 11:50pm. This gives you two opportunities to catch the fireworks celebration. I don't recommend park hopping on NYE because they will not let anyone else in when it hits capacity (and it will) so be early. It is going to be a long day, so don't wear yourself out. Before each show, you'll need to be one of the first in line to secure a good viewing location. Cast members will tape off the area. Be sure not to set up outside those lines, or you will be asked to move. Some ideal spots to watch the fireworks from are:
The hub- the best spot, IMHO, but also the most popular and crowded.
Main Street- try to get in front of a trashcan or light pole, something that will create a block between you and people on the other side of you.
Fantasyland- Beauty's Castle and the Tangled area, are both places for great views.
Frontierland – In front of Thunder mountain or Splash mountain for amazing reflections off the water, and you can ride Splash Mountain one last time before its transformation into Tatiana theming in 2023.
Tomorrowland – stand at the entrance for the best views! Also note in previous years, both Tomorrowland and Frontierland had kid-friendly dance parties earlier in the day. I haven't seen anything on this, so stay tuned! (pun intended)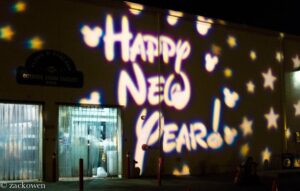 Also, while the fireworks show is free with park entry, some exclusive tables and seating areas require an advance reservation and fee on top of your MK entry reservations and tickets. Check out the fireworks dessert parties, which offer pre and post-fireworks celebrations. If you can, choose POST fireworks celebration because you can get into the viewing area first.
Other Parks
Epcot- Although MK is a classic for NYE, Epcot is an AMAZING way to spend your celebration! The park is large and has many activities sprinkled throughout. The nighttime spectacular Harmonious is at 6:30 pm, and the NYE countdown starts at 11:54 pm. Enjoy New Years' Eve "around the world" as each pavilion celebrates its respective new year when it hits midnight in that country. Listen for the unique announcements and enjoy drinks and bursts of colorful fireworks.
Hollywood Studios- Although their celebration is more subdued, HS has a countdown and fireworks as well as their regular shows, Wonderful World of Animation and Fantasmic!
Animal Kingdom- for a VERY low-key close to the new year, try this park. In the past they have had dance parties for the little ones, and they plan on closing at 8 pm on NYE
If you aren't up for the crowds at the parks, there are a few other ways to see the fireworks!
Fireworks Views from Resorts & Restaurants
Back a few years ago, you could just roll up to a resort and wander around. I don't recommend that these days. If you want to spend a decent amount of time walking around a resort, I recommend setting up dining or drink reservations. Getting a reservation at one of the monorail restaurants is a great way to view the fireworks. It might be a bit late, so stay on the app to see what you can get just before the fireworks shows at WDW. Try one of these hotels:
Grand Floridian
Polynesian
Contemporary
Mini Golf
For a more low key and inexpensive way to do Disney on New Years Eve, try Mini Golf. With many Disney packages come free minigolf. I know we have several unexpired minigolf tickets that we use when we just want something a little more laid back.
Disney Springs
With lots of dining options, you are still going to want to make reservations, but there are lots of places to choose from. Shopping is still open until 11:30 pm. Be sure to check out the Christmas Tree Stroll (see my IG account for some great videos)
Finally, don't forget to wear something festive. It's not a requirement, but it will get you into the spirit of celebrating the new year!
Have a safe and happy new year at Walt Disney World!
Photo by Brian McGowan brianmcgowan.carrd.co
Rebecca is the founder of Sightseeing Sidekick travel blog and the publisher of both a lifestyle and a bridal magazine. Living in Northern Virginia, she's a 50+ mother and grandmother who started travel blogging to share her "new to her" experiences as she has more time to travel. She hopes to "inspire women who previously may not have been able to travel due to career or family obligations to plan, sightsee, and create memories." You can follow her on Facebook, Instagram, Pinterest, and YouTube