What Not to Miss at Disney's Flower & Garden Festival
Walt Disney World's annual Flower and Garden Festival is back for 2023, and it's bigger and better than ever before! Running from March 1 to July 5, 2023, this year's festival features stunning floral displays, delicious food and beverage options, and exciting entertainment.
Topiaries
The festival takes place in Epcot's World Showcase, where each country is decorated with beautiful flower arrangements inspired by the culture of the country. This year, visitors can enjoy new topiaries of popular Disney characters, such as Remy from Ratatouille and Miguel from Coco. And now for 2023, you will see topiaries of Mirabel, Antonio, Isabela, and Luisa from Disney's Encanto.
Food
But it's not just about the flowers – the festival also features a variety of outdoor kitchens with delicious food and beverage options. Guests can sample a variety of cuisines, including flavors from Mexico, Italy, Japan, and more. The festival also offers a wide selection of craft beers, wines, and specialty cocktails to complement the food. Check out this fantastic map at Disney Food Blog
Fun
The Flower and Garden Festival also includes a number of special events and activities, such as the Garden Rocks Concert Series. This popular concert series features well-known musicians from the 70s, 80s, and 90s performing classic hits.
Learn
For those who want to learn more about gardening and horticulture, the festival offers a variety of workshops and seminars with gardening experts. Guests can learn about landscaping, container gardening, and plant care.
Shop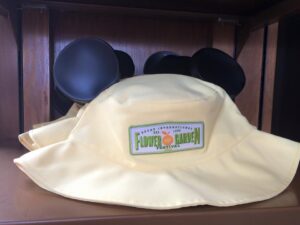 In addition to the various events and activities, the festival also offers several unique souvenirs and merchandise. Visitors can purchase limited edition pins, apparel and even take home a piece of the festival with a variety of gardening products.
The festival is included with regular admission to Epcot, making it a great value for guests. It's a wonderful opportunity for visitors to experience the magic of Disney while also enjoying the beauty of nature.
Overall, Walt Disney World's 2023 Flower and Garden Festival is a must-see event for anyone visiting the park during the spring season. With its stunning floral displays, delicious food and beverage options, and exciting entertainment, it's sure to be an unforgettable experience for all who attend. Be sure to mark your calendar for this year's festival and come experience the magic for yourself!
Rebecca is the founder of Sightseeing Sidekick travel blog and the publisher of both a lifestyle and a bridal magazine. Living in Northern Virginia, she's a 50+ mother and grandmother who started travel blogging to share her "new to her" experiences as she has more time to travel. She hopes to "inspire women who previously may not have been able to travel due to career or family obligations to plan, sightsee, and create memories." You can follow her on Facebook, Instagram, Pinterest, and YouTube