Things Not to Miss at Wrigley Field
This year I visited Chicago for a business event, and other than losing our luggage, it was a great trip. One of the sites we squeezed in was a visit to the Cub's Wrigley Field. Let me be the first to tell you I am not a huge baseball fan. I appreciate the talent and like attending games as an experience, but It would be unfair to baseball fans to call me one. But no baseball fan can question that Wrigley Field is an experience everyone should have!
The history of this stadium spans more than 100 years! As a first-time visitor, here are the
Things not to Miss at Wrigley Field
(that don't necessarily have to do with baseball!)
Get a ticket in advance.
Because it was a fairly last-minute decision to get tickets, we had to get them from the box office.  They told us it was one of the last times they would give out paper tickets(?) (Ironically, we misplaced them later.). Your best bet is to use the app where you can:
Access and manage your digital tickets
Check-in for offers, rewards, and personalized history for ballparks visited
Team schedules, directions, parking information, and more
Interactive concourse maps and directories, including food and drink menus
Inbox messages
Get an Italian beef and a brew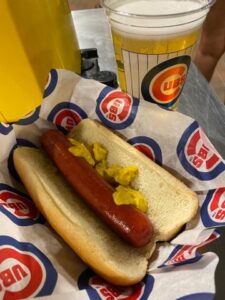 Otherwise known as a hot dog, DO NOT put ketchup on this. (I had heard this before, so I didn't embarrass myself. The beer, which has been described as slightly better than a PBR, is still essential for the full experience. I had a soda, but don't worry – my partner had the beer.  🙂
Plan ahead to get a good view
Use the app to check out the seating chart to help plan for the best view. I feel like we got lucky – we didn't have an obstructed view and were able to enjoy the sights.
Listen for the organ music.
Being raised in a church with organ music, my ears perked up real quick to the beautiful tones of the Cub's organ. The first MBL team to have an organ and an organist, they have had live organ music since 1941! A real treat for my ears.
Go with Friends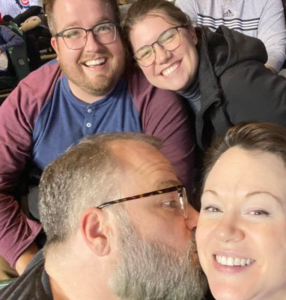 We joined a group of people from the conference we were attending, and when I shared some photos, I learned we had friends from Florida who were at the same game!  Fortunately, we had space. where we were seated, so they came and joined us! One of them was a HUGE baseball fan who has a bucket list plan to visit every MBL stadium and was able to check Wrigley Field off his list. We had a great time being part of his bucket list moment!
Get a souvenir and photos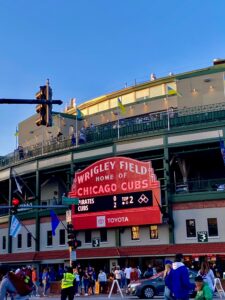 We try to get refrigerator magnets or stickers of all the places we've been. This helps the local economy and gives us something to remember the trip by. (Besides photos!) I got a small baseball bat that I may or may not keep next to my bed for things that go thump in the night! Grab some photos to remember the moments as well.
DO NOT DROP ANYTHING ON THE GROUND
Sitting in the bleachers, chatting with friends, I did not notice that my travel mate dropped something on the ground. As he got out of his chair and bent down to pick it up,  NONE of us saw the big screen, but THEY saw US.  Thinking he would propose to me, the TV screens zoomed in on the big moment that never happened.  Embarrassing, for sure.  Likewise, don't do anything your mother (or kids) shouldn't see. I got a text minutes later from a friend who saw it from his living room television!
PLAY BALL!
Rebecca is the founder of Sightseeing Sidekick travel blog and the publisher of both a lifestyle and a bridal magazine. Living in Northern Virginia, she's a 50+ mother and grandmother who started travel blogging to share her "new to her" experiences as she has more time to travel. She hopes to "inspire women who previously may not have been able to travel due to career or family obligations to plan, sightsee, and create memories." You can follow her on Facebook, Instagram, Pinterest, and YouTube