My Favorite Hometown Date Night Restaurants
West End Edition
Whether at home or traveling, we make it a point to have #datenight every week to get alone time with no distractions. Since I talk about restaurants where we travel, I thought it only fair to talk about restaurants locally. We live in Prince William County, Virginia, so we consider Prince William and the Greater Manassas area home. It's really hard to choose our "favorites" because there are so many, so I'm going talk about the west in this article and do a part two for the east end. Here are my choices for the cuisine, atmosphere, and hospitality.
9114 Center Street, Manassas • 571-359-6767, ext. 2
14600 Washington Street, Suite 146, Haymarket 571-359-6767, ext. 4
https://www.zandrastacos.com/
Zandra's specializes in tacos that might not be what you're used to seeing. Try their Cuban tacos with pork, mustard sauce, house-made pickles, or falafel tacos with lettuce and cotija cheese. Ever had a drunken Thai shrimp taco with a soy ginger glaze? Now's your chance. Zandra's is the spot for supreme taco-tasting (if you can avoid filling up on the yummy chips and queso.)
Try a signature Mojito or Margarita, and choose the rooftop in Manassas or the patio in Haymarket as weather allows.
9402 Battle Street, Manassas • 703-369-7501
battlestreetbistro.com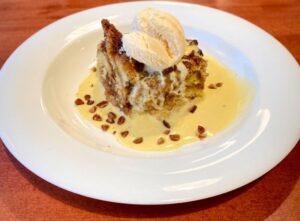 This French-themed restaurant has an American flair and serves breakfast, lunch, and dinner. We enjoy the authenticity as every aspect of the meal is made in-house, from sauces to desserts. Appetizers include four unique kinds of fries, pecan-crusted brie, and corn fritters. Salads, sandwiches, and a wide variety of entrees (try the pork tenderloin!) round out the menu. Add to that the vegan selections and tempting desserts there is something for everyone.
Be sure to make reservations, which are especially recommended on weekends.
The Black Sheep Restaurant
9935 Discovery Blvd, Manassas • (703) 420-2028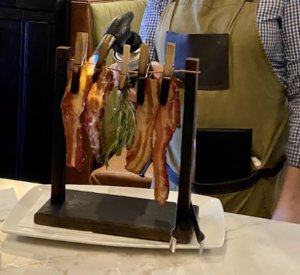 The restaurant is committed to promoting locally sourced cooking and supporting local farms and farmers striving to procure fresh, locally grown ingredients while providing a palate of world-inspired comfort food.
Their unique Bacon Tower is torched table side.
Popular items include the unique Bacon Tower, torched table side. Upon ordering the appetizer, a little clothesline comes with four meaty pieces of candied bacon hanging on it and a sprig of fresh rosemary. Next, serving staff fire up a mini-blowtorch to heat up the bacon from top to bottom, offering a unique and memorable presentation.
Entrees run the gamut from healthy options, like beet salad or avocado toast, to indulgences like the French onion grilled cheese sourdough sandwich with warm caramelized onions and melted Gruyère cheese.
A robust selection of beers, wines, and spirits are available at the bar or dining room, with seasonal brews from neighboring 2 Silos.
Red House Tavern
15001 Washington Street in Haymarket • 571-486-5570
Eating here is an experience as much as it is a meal. This boutique farm-to-table spot serves up house-crafted cocktails and a chef-created menu that changes seasonally.
The team is dedicated to providing folks with a unique experience in a high-end, more comfortable than pretentious setting.
I felt comfortable enough to try items I may have hesitated to try, including house-made squid ink spaghetti, oil-soaked Arctic sea bass, and roasted bone marrow. The menu changes since the ingredients are locally sourced and seasonal. The food is amazing, the staff accommodating, and it is one of our favorite spots.
If you are interested in great food photography in Northern Virginia – I suggest contacting Mark Gilvey https://mgcre8v.com/ or all your commercial photography needs. As seen in www.princewilliamliving.com magazine. He's great to work with, and his photos are fantastic!